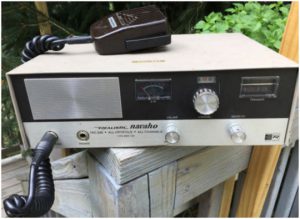 Can you remember the ultimate connection song of the 70s "Convoy" by CW McCall which was actually a commercial ploy by Mannheim Steamroller to build a war chest to produce instrumental music under the Mannheim Steamroller label.
Think about the craze that occurred due to this single song and the number of CB Radios that were sold by Midland, Cobra and Realistic. Think about all the books that were sold on CB codes (10-4) and call cards that were large business cards for your handle (name). I was the Grouchy Gravedigger and I had a cool call card.
I was in my early teens when Convoy came out and I was not only a fan of Convoy but was also a fan of every other CW McCall song which resulted in my wearing out numerous eight track tapes listening to these songs including Crispy Critters, Black Bear Road, Silverton Railroad, Four Wheel Cowboy and many more. Sadly, I can still sing half the lyrics.
When we traveled across the US on vacation, dad and I would be on the CB talking to the truckers and other CB addicts to reduce our chances of getting a ticket since the speed limit was 55 MPH. Yes, I said 55 MPH and this was the speed limit in most of the nation due to fuel conservation. Traveling in the 70s and 80s was like watching paint dry in the upper Great Plains.
It was nearly forty years ago that I was hooked. Furthermore, I believed in environmental protection, nature, the flag, Ford and apple pies. Today, I look back and even though I am a Libertarian, I believe in the environment, nature, the flag, Ford and apple pies. Hang on one, I am not as fond of Ford since they are proud of $$$ they charge, I cannot support GM because they are Government Motors so I am currently fond of Dodge unless they are sold to the Chinese.
Truly it is hard to believe that my six channel CB walkie-talkie and my 40 channel USB/LSB base station was my internet connection to the world as a teenager and it was so cool to talk not type to someone thousands of miles away.
Think about it, 40 years ago there were no game consoles, no PCs, no internet, cable TV was limited, phones were hard-wired, CDs and DVDs were not invented yet, you had to take film in to be developed. Wow…. it was the technology stone age.
In closing, we would not be where we are at today if it was not for yesterday. On the flip side, the technology of yesterday is not as cool as the technology today so lets keep moving forward and don't forget the technology of the past.
Thanks, Jay Patterson