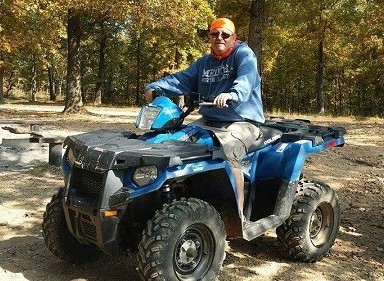 Riding My ATV At Cloud 9
You may ask why someone would write an editorial blog and if anyone would read it when written since there are so many editorials out there. I cannot tell you why others do this but I can tell you why I do this.
The reason I blog is that I need a way to release my thoughts, concerns, etc., for personal, professional, and other reasons. How did I get here?
In 2015, my life went through a number of twists and turns that were unexpected but who can really anticipate twists and turns since they just happen. Some of these twists included:
My mother experienced a serious stroke during the Superbowl that resulted in her residing in a nursing home for the remainder of her life.

Weekly, bi-weekly, and monthly trips between North Dakota and Missouri the norm through all of 2015.

The company I worked for was sold to an investment company in March and with that sale, my position was significantly impacted even though I was asked to stay on for twelve (12) months.

Much travel was required for work between our Missouri and Illinois offices.

All other senior staff at the company I worked at were terminated by the end of 2017 except for myself.

I was the source of information for corporate history, information, and blame.
2016 ended up being a year of transition for me since the downhill trend continued from 2015.
The new management team and I disagreed on reporting accuracy.

Accurate reporting without massaging, tweaking, etc. was a must.

Decisions were made by the new management team with limited input from knowledgeable employees.

Changes impacting key competencies were made without being vetted.

I decided to move on and work as a consultant for other companies.

Increased flexibility to travel home to see my parents.
2017 rolled around and I decided to work as a full-time employee since I was not able to invest the time to develop a customer base for consulting so I had breaks between jobs.
I was hired by a local sales and service company to transition them from shrink mode to grow mode.

The company decided they did not want to go through the pain of transitioning so we parted ways.

After forty (40) years of working without a significant break, I decided to take some time to figure out what I wanted to do.

This is when I initially started to blog and research other options including franchises, full-time employment, sales, etc.

Being offered an opportunity to help develop sales and support for a small company that has a national presence, I decided to accept the offer.
Unluckily, in May 2017, my mother's health continued to decline and she passed away after a long fight. I was devastated by her death even though I had years to prepare for it.
During this time, I also realized that I had not emotionally dealt with my professional life either and had to get right both personally and professionally.
I started writing a journal but over time that was not enough to deal with the issues listed above so I decided to write an editorial blog to:
Get right personally since I do not have my mom to talk to.
Share professionally since I do not have my long-established circle of employees, peers, etc.
Deal with issues, challenges, etc. regarding being fifty plus going on fifteen.
Provide a boost to those that are fifty plus since it is not a death sentence.
Vent as required.
What do you do to help maintain personal and professional stability?
I want to thank each of you for visiting this blog and wish you health, safety, and success. It is great being fifty plus going on fifteen.
Jay Patterson