There are many famous people that were born, raised or lived in the great state of North Dakota and better yet my hometown of Jamestown North Dakota.
Louis L'Amour is one of these famous people whose accomplishments include writing hundreds of short stories, novels, television scripts, and screenplays. Many of his stories were translated and distributed worldwide and at one time there were more than $200 million copies worldwide. Louis L'Amour lived from 1908 to 1988.
I have always dreamed that one day I would write a book like Louis L'Amour did and better yet a series of books. Louis L'Amour wrote western books and I would write alternate history. Unluckily, only one of us have authored books at this time so I better get in gear.
My goals have included measuring my life experience compared to Louis L'Amour. I cannot compare growing up in the late 20th century to his growing up in the early 20th century there are comparisons.
Louis L'Amour experiences were many. Some of them include being an elephant handler at a circus, working as a fruit picker, gold prospector, longshoreman, lumberjack, and miner. He also skinned cattle in Texas, lived with bandits in Tibet, served on an East African schooner, and was a tank officer during WWII. Finally, Louis L'Amour was a professional boxer who won 51 out of 59 matches. My life experiences are varied also so there is hope here.
Louis L'Amour lived in North Dakota, Oklahoma, California, Colorado, France, and Germany. In this area, I can compete with Louis L'Amour although our experiences are in different eras.
In the early 1950s, Louis L'Amour transitioned into writing stories under his own name and this is when the magic occurred. Not only did he have a solid following of his books but many of his books were made into movies. The Duke, John Wayne purchased the movie rights to many of his books and one of my favorites was "How The West Was Won". Incredibly, over 45 of his books were made into movies of films. Well, I have struck out here, my picture has been in the paper and I have had an article written about me though.
Louis L'Amour wrote with a style of his own until his death in 1988. The true measurement of a man is the size of the shadow they cast and Louis L'Amour cast a shadow that will never be filled again.
I was a fast attack submariner during and after the cold war and on fast attack submarines space was extremely limited. One thing you could guaranty was that there would be a large selection of Louis L'Amour books on the sub to be read, traded, shared and re-read.
Being underway for months on end could be and was lonely. Entertainment was limited so a good book would take you from under the sea to the great plains, mountains, and deserts of the old west. A much simpler but deadlier time when death was a daily occurrence.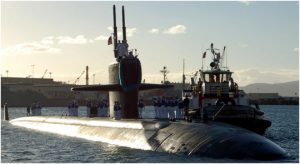 Louis L'Amour books cross-generational interests. My grandpa Max would always have a Louis L'Amour book near him and on my grandfathers passing, he gave these books to me. It felt very special to receive this from grandpa when he had 50 plus grandchildren and he did not have many possessions as he approached the age of 80.
There is still time for me to become a writer although I doubt I will ever be a writer that touched lives like Louis L'Amour. Great American heroes come in different sizes, colors, sexes, and beliefs but Louis L'Amour will always live in my grandfather Max's and my heart as one of the greatest.
I have other favorites like King, Michener, and others but Louis was one in a billion. Who is your favorite writer?
Its Great To Be Fifty Plus Going On Fifteen.
Jay Patterson